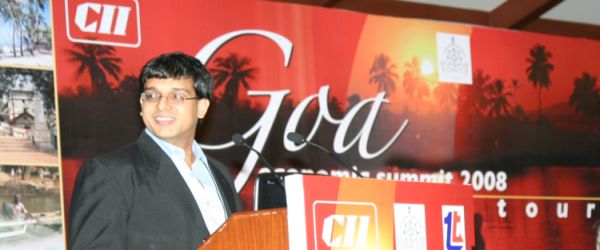 My grandfather was a merchant who migrated from Rajasthan to Calcutta (Kolkata) and worked in West Bengal and Assam in the 20th century. He was a firm believer that you should give back to your stakeholders, as there is no point in accumulating too much wealth. If your child is capable, he/she doesn't need your wealth beyond a point. If your child is not capable, then why accumulate excessive wealth and spoil him/her.
The seeds of what would result in today's Sancoale Group in Goa were laid in the 1960s when my father came to Goa after having repaired and converted a WWII landing craft vessel into a mechanized ore carrier in Andaman and Nicobar islands. His technical prowess and stories of how he managed to repair a vessel on a remote island are testimony to a brilliant mind. As one of the pioneers of mechanized lighterage operations, he used his expertise to setup a shipbuilding unit in the village of Sancoale, Goa. My daughter calls him the best engineer of the house, as do many other people who have seen him work. My brother Prakash joined him in the 80s. This business evolved into Sancoale Shipping Ltd, with a fleet of barges operating at multiple ports in Gujarat, Maharashtra, Goa and Andhra Pradesh.
In 1998, we founded Sancoale Technologies that started as a Software development company, made one of India's first Online Hotel Reservation Software in 2001, and gradually evolved into a Digital Marketing company. We go the extra mile to help our clients win.
In 2015, having helped clients in the travel industry worldwide sell more rooms and packages, we took baby steps into Hospitality by purchasing a small hotel near one of the popular beaches.
In 2016, one of our decade-old Digital Marketing clients made us an offer that we couldn't refuse. We became exclusive distributors for Titan and Fastrack for their sunglasses, accessories and fragrances in the state of Goa, India.
As a corporate citizen with a conscience, we at Sancoale Technologies lead and participate actively in significant community initiatives Beyond Business.
Lets talk to see how we can help your business win. Contact Us.